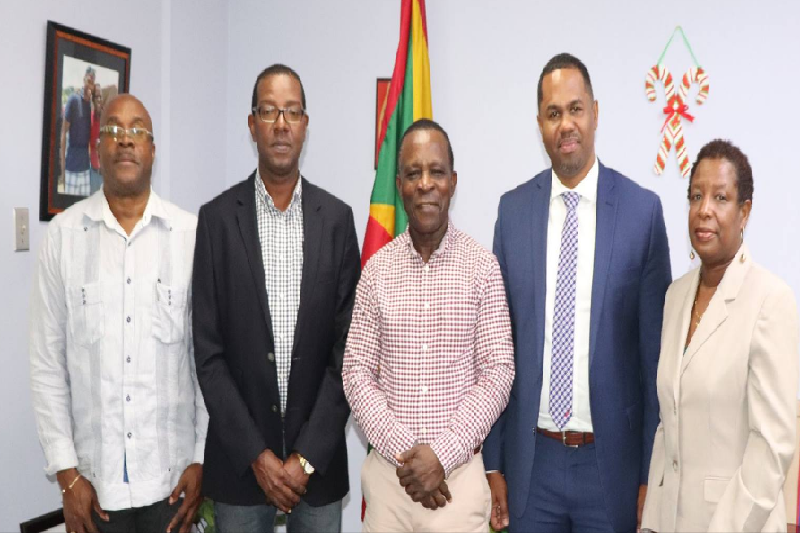 FIFA DEVELOPMENT MANAGER MEETS WITH PRIME MINISTER OF GRENADA
FIFA Regional Office Development Manager, Marlon Glean, along with the President of the Grenada Football Association (GFA) Cheney Joseph, on Friday December 7, 2018, met and held audience with Grenada's Prime Minister, Dr. The Right Honourable Keith Mitchell, to discuss the future of football in Grenada.
The Prime Minister welcomed all to what he referred to as a very timely discussion, and reiterated his government's fullest support for sports, and in particular football.
Dr. Mitchell noted his government's willingness to ensure Grenada benefit from all FIFA projects that are available to the Caribbean.
During the meeting, FIFA Regional Manager, Marlon Glean, outlined the FIFA Forward Program, the benefits to be derived and the focus which the Association has insisted should be contemplated.
Mr. Glean provided the Prime Minister with an update on the current cycle of the Programme and the likely Grants to be received in the new phase.
It is the plan of the GFA to build a Technical Centre, an idea Prime Minister Mitchell supports and has agreed to a joint committee to handle the project going forward.
He is suggesting there be representation from the community to ensure the project reflects the desires of the government, GFA and the surrounding communities.
Prime Minister Mitchell also reassured the delegation that the Fond project is a noble and positive one and therefore confirmed his government's decision to make amendments to the Fond License Agreement.
GFA President Cheney Joseph and General Secretary Ken Whiteman both thanked the Prime Minister for the Governments unwavering support and assured him of GFA's desire to work closely with the Government in the future, as far as it concerns the development of football.