2019-07-03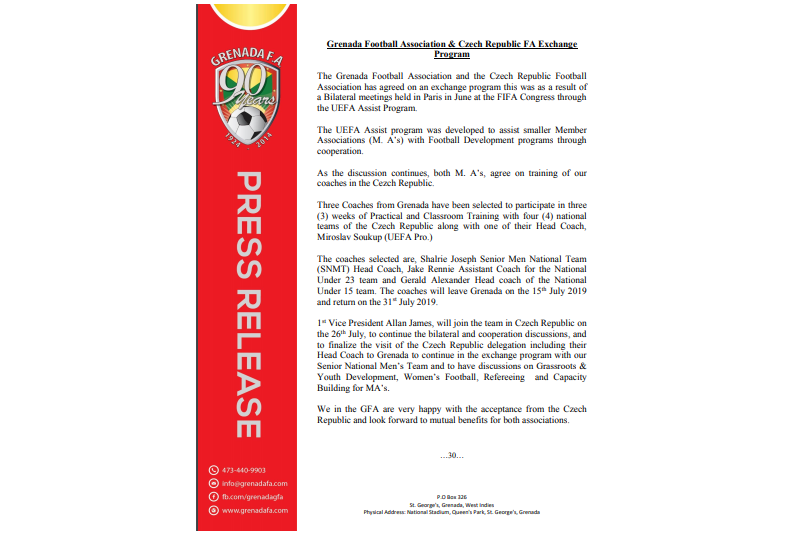 Grenada Football Association & Czech Republic FA Exchange Program
The Grenada Football Association and the Czech Republic Football Association has agreed on an exchange program this was as a result of a Bilateral meetings held in Paris in June at the FIFA Congress through the UEFA Assist Program.
The UEFA Assist program was developed to assist smaller Member Associations (M. A's) with Football Development programs through cooperation.
As the discussion continues, both M. A's, agree on training of our coaches in the Cezch Republic.
Three Coaches from Grenada have been selected to participate in three (3) weeks of Practical and Classroom Training with four (4) national teams of the Czech Republic along with one of their Head Coach, Miroslav Soukup (UEFA Pro.)
The coaches selected are, Shalrie Joseph Senior Men National Team (SNMT) Head Coach, Jake Rennie Assistant Coach for the National Under 23 team and Gerald Alexander Head coach of the National Under 15 team. The coaches will leave Grenada on the 15th July 2019 and return on the 31st July 2019.
1 st Vice President Allan James, will join the team in Czech Republic on the 26th July, to continue the bilateral and cooperation discussions, and to finalize the visit of the Czech Republic delegation including their Head Coach to Grenada to continue in the exchange program with our Senior National Men's Team and to have discussions on Grassroots & Youth Development, Women's Football, Refereeing and Capacity Building for MA's.
We in the GFA are very happy with the acceptance from the Czech Republic and look forward to mutual benefits for both associations.