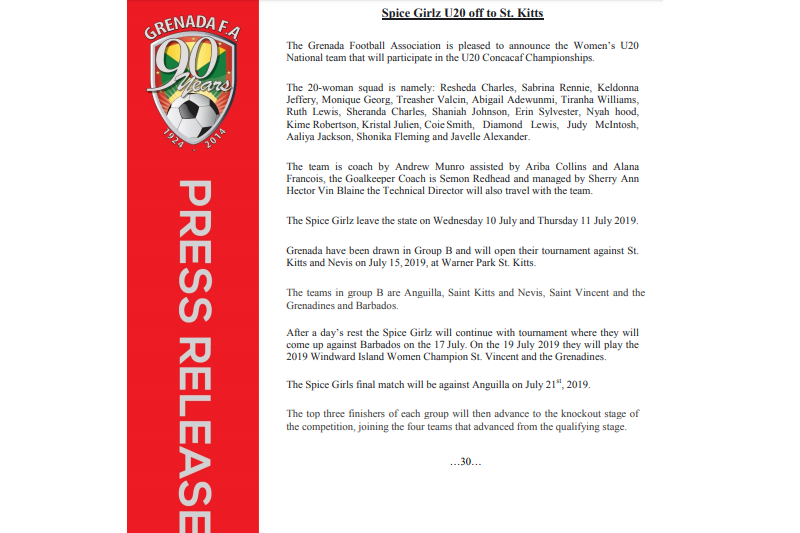 Spice Girlz U20 off to St. Kitts
The Grenada Football Association is pleased to announce the Women's U20 National team that will participate in the U20 Concacaf Championships.
The 20-woman squad is namely: Resheda Charles, Sabrina Rennie, Keldonna Jeffery, Monique Georg, Treasher Valcin, Abigail Adewunmi, Tiranha Williams, Ruth Lewis, Sheranda Charles, Shaniah Johnson, Erin Sylvester, Nyah hood, Kime Robertson, Kristal Julien, Coie Smith, Diamond Lewis, Judy McIntosh, Aaliya Jackson, Shonika Fleming and Javelle Alexander.
The team is coach by Andrew Munro assisted by Ariba Collins and Alana Francois, the Goalkeeper Coach is Semon Redhead and managed by Sherry Ann Hector Vin Blaine the Technical Director will also travel with the team.
The Spice Girlz leave the state on Wednesday 10 July and Thursday 11 July 2019.
Grenada have been drawn in Group B and will open their tournament against St. Kitts and Nevis on July 15, 2019, at Warner Park St. Kitts.
The teams in group B are Anguilla, Saint Kitts and Nevis, Saint Vincent and the Grenadines and Barbados.
After a day's rest the Spice Girlz will continue with tournament where they will come up against Barbados on the 17 July. On the 19 July 2019 they will play the 2019 Windward Island Women Champion St. Vincent and the Grenadines.
The Spice Girls final match will be against Anguilla on July 21st, 2019.
The top three finishers of each group will then advance to the knockout stage of the competition, joining the four teams that advanced from the qualifying stage.