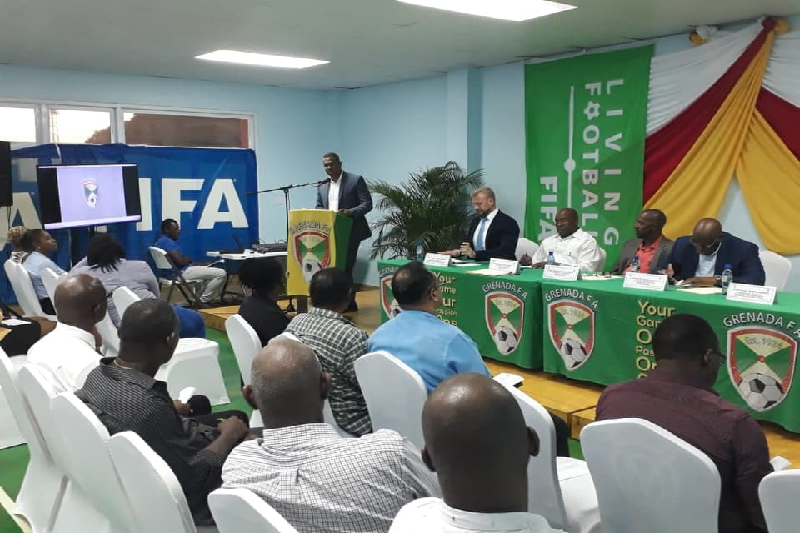 GFA Launched it 2019-2022 Strategic Plan
The Grenada Football Association (GFA) on Tuesday September 24th,2019 launched its 2019-2022 Strategic Plan.
Attending the launched were FIFA's Regional Manager Marlon Glean, Concacaf's Senior Manager Howard McIntosh, Czech Republic's General Secretary Jan Pauly and Free Kick Foundation Siobhan Lloyd.
This four-year plan is set to achieve greater development of the game both on and off the field of play.
The plan focuses on all aspects of the game including grassroots, clubs, women and men football, refereeing, administration, infrastructural projects and revenue generation.
President of the Grenada Football Association Cheney Joseph stated that the focus of the plan is to increase participation, improve good governance and to allow teams more opportunities to play competitive matches.
FIFA Regional Development Manager, Marlon Glean, encouraged the GFA to action the strategic plan and be guided by its operations.
He called on all stakeholders to get on board to ensure the success of the strategic plan. Glean stated that we all need to work together to ensure the success of football in Grenada.
Howard McIntosh, Concacaf's Senior Manager commended the GFA on the work it has done thus far and encourages the GFA to put its new vision into action.
The Concacaf Senior manager went on to congratulate President Joseph and the GFA on being the first to sign the UEFA Assist Memorandum of Understanding (MOU) with the Czech Republic Football Federation.
He noted that Concacaf is pleased with the work of the GFA and encouraged the Association to continue on that path.
The implementation of the 2019-2022 strategic plan will guide the work of the GFA and the development of football for the next four years.