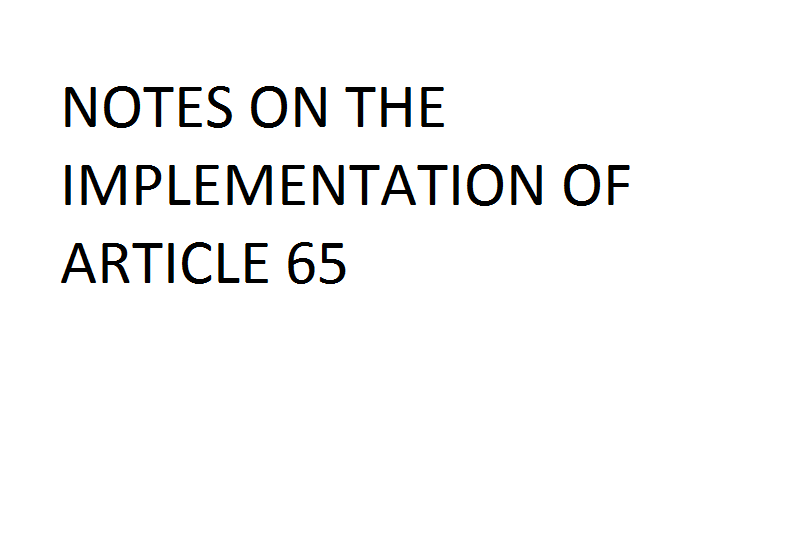 NOTES ON THE IMPLEMENTATION OF ARTICLE 65
FIFA circular 1010 highlights certain minimum procedural standards comprising conditions and principles to which associations ought to confirm in order to satisfy the dictate of FIFA that an effective alternative mechanism is actually in place to prevent members of an association from submitting a dispute to the ordinary courts for resolution.
I.Principle of parity
II.Impartiality and independence
III.Fair hearing
IV.Contentious proceedings
V.Equal treatment
Parity
a) A predetermined list may be used but each party must be able to have equal influence on putting together the list
i.The input and suggestions of each club has been sought
ii.The first draft of the list is brought before the General Council for final selection
b) The parties to each particular dispute must have the right to appoint an arbitrator
Impartiality and independence
a) Each party has the right to challenge an arbitrator on the ground of partiality
b) Adoption of the relevant sections of the Arbitration Act, CAP 19 of the Laws of Grenada
Fair hearing
a) Each party has the right to be heard on the matter in dispute
i.Hearing may be exclusively by means of written submissions if the parties agree
ii.If parties do not agree then a full hearing with submissions by the parties must be made available
b) Each party has the right to be represented by a lawyer or other expert
i.The Arbitration Tribunal may limit the number of experts that each party may use
Contentious proceedings
a) Each party has a right to examine, comment on, rebut and disprove elements of the other's case as presented before the Arbitration Tribunal.
Equal treatment
a) Parties have the right to have identical issues treated in an identical manner
These are minimum standards and the General Council may discuss the implementation of additional standards to reinforce the concepts of independence and to ensure that the edict of FIFA that members may not take matters before the ordinary courts is adhered to.
General Council is being asked to consider mandating that each club or other member of the GFA execute a document in which they commit to abide by the requirements of Article 65 and its regulations and procedures