2020-02-14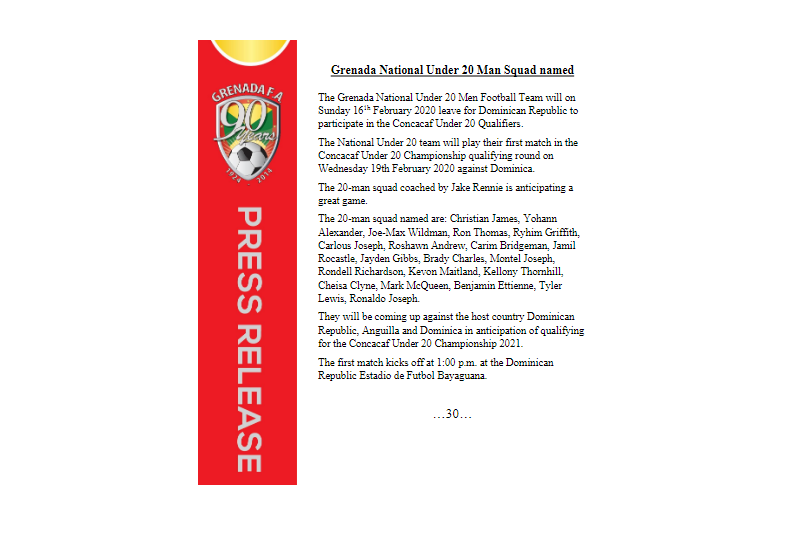 Grenada National Under 20 Man Squad named
The Grenada National Under 20 Men Football Team will on Sunday16th February 2020 leave for Dominican Republicto participate in the Concacaf Under 20 Qualifiers.
The National Under 20 team will play their first match in the Concacaf Under 20 Championship qualifying round on Wednesday 19th February 2020 against Dominica.
The 20-man squad coached by Jake Rennie is anticipating a great game.
The 20-man squad named are: Christian James,Yohann Alexander, Joe-Max Wildman, Ron Thomas, Ryhim Griffith, Carlous Joseph, Roshawn Andrew, Carim Bridgeman, Jamil Rocastle, Jayden Gibbs, Brady Charles, Montel Joseph, Rondell Richardson, Kevon Maitland, Kellony Thornhill, Cheisa Clyne, Mark McQueen, Benjamin Ettienne, Tyler Lewis, Ronaldo Joseph.
They will be coming up against the host country Dominican Republic, Anguilla and Dominica in anticipation of qualifying for the Concacaf Under 20 Championship 2021.
The first match kicks off at 1:00 p.m. at the Dominican Republic Estadio de Futbol Bayaguana.