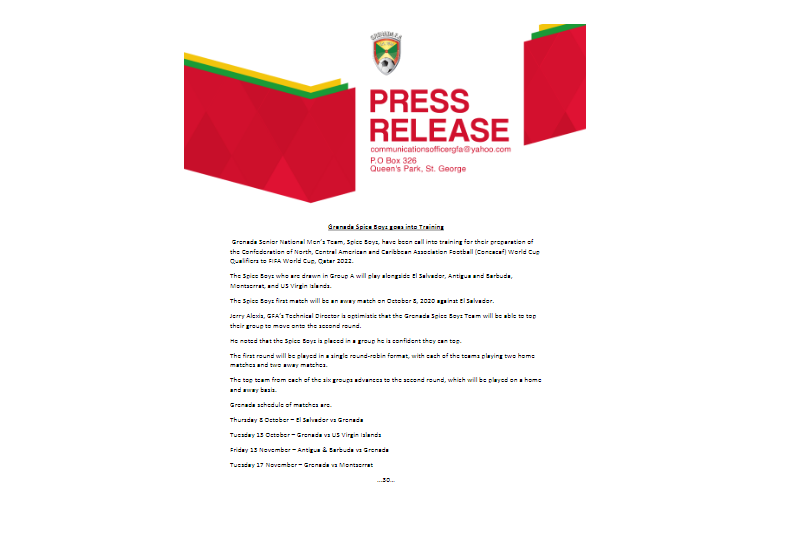 Grenada SpiceBoyz goes into Training
Grenada Senior National Men's Team, Spice Boyz, have been call into training for their preparation of the Confederation of North, Central American and Caribbean Association Football (Concacaf) World Cup Qualifiers to FIFA World Cup, Qatar 2022.
The Spice Boyz who are drawn in Group A will play alongside El Salvador, Antigua and Barbuda, Montserrat, and US Virgin Islands.
The Spice Boyz first match will be an away match on October 8, 2020 against El Salvador.
Jerry Alexis, GFA's Technical Director is optimistic that the Grenada Spice Boyz Team will be able to top their group to move onto the second round.
He noted that the Spice Boyz is placed in a group he is confident they can top.
The first round will be played in a single round-robin format, with each of the teams playing two home matches and two away matches.
The top team from each of the six groups advances to the second round, which will be played on a home and away basis.
Grenada schedule of matches are.
Thursday 8 October – El Salvador vs Grenada
Tuesday 13 October – Grenada vs US Virgin Islands
Friday 13 November – Antigua & Barbuda vs Grenada
Tuesday 17 November – Grenada vs Montserrat