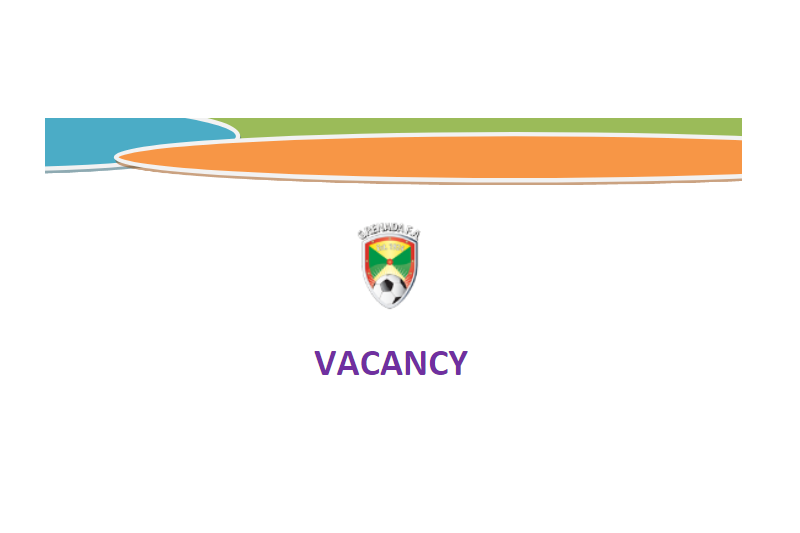 VACANCY - COACH SENIOR NATIONAL TEAM
The Grenada Football Association invites applications from dynamic, qualified,and energetic candidates for the following position:
COACH SENIOR NATIONAL TEAM
The coach will lead in all aspects of Senior National Team program planning, training,and development to improve the ranking and performance of the Men's Senior National Team.
He will be responsible for the following:
Coaching:
I.To implement, develop, deliver the GFA National Playing and Coaching Philosophy with the Men's Senior National Team.
II.To prepare the foundation for the Men's National Team to meet the initial targets of the Grenada Football Association strategic plan.
III.Educate staff members on proper training techniques, exercises and any football specific needs.
IV.To improve the performance and ranking of the Senior Men's National Teamto a top 75 ranking.
V.To effectively develop the tracking and monitoring of both local and overseas based players along with the GFA coordinator.
VI.Produce detailed long-term plans to achieve GFA performance targets at the Micro, Meso, and Macro cycles.
VII.Prepare and execute practice and competition plans. Shall Implement and utilise sports science to improve performance of the players and team.
VIII.Assist with football promotion/development.
IX.Shall understand and apply a methodological and pedagogical approach according to coaching methodology and the highest player development standards.
X.To support national youth teams through development programs, including assisting with managing talent identification processes as instructed by the Technical Director.
XI.Actively scout, observe, and attend local games on a structured, pragmatic approach to ensure the top local based players are recruited at all age groups into the national program.
XII.Monitor the development progress of national youth team players in both the academy system and national youth team program with a long-term overview.
XIII.To perform additional duties and responsibilities as reasonably instructed by the GFA from time to time.
XIV.To assist with sport science input where required at training sessions.
XV.To assess trialists at both training and games and feedback to the Executive Committee through the President.
XVI.To assist players to set individual short-and long-termgoals to create Individual Action Plans for all players
XVII.To support the development of young players in a healthy lifestyle, diet, drug awareness, education.
XVIII.Complete CPD (Continuous Professional Development) to maintain coaching qualifications.
Administrative:
Coach shall gather and maintain the following:
-Players & Team Skill Registers or assessment forms.
-Player's playing records, team history, basic statistical information on players, opposition and the game in general.
-Produce detail reports and presentations on player, team, opposition, tournament performances in both competitive and training camp environments.
-To adhere to the GFA Coaches Code of Conduct.
-To maintain all coaching and games program records for each session throughout the season.
-To complete player progress reports.
Mentoring:
-The head coach shall act as a mentor for all local assistant-coaches and youth team coaches.
-Serve as a role model in a general capacity for all levels as well as for physical education teachers and senior players.
Requirements:
I.At least five (5) years relevant post qualification experience coaching at a national level and or coaching in a professional league.
II.The Post holder must possess a UEFA A or English FA A license or other recognized equivalent qualifications. A UEFA pro License can be an asset.
III.Self-starter, independent, motivated and with an outgoing personality.
IV.Excellent communication skills (Oral and Written English) is required.
V.IT competency required. Must be computer literate and possess the ability to use a variety of computer software applicationsto effectively track and monitor the progress of National Team programmes.
VI.NO criminal record
VII.Must be of a football background and has vast knowledge of the game.
VIII.Must have proven professional football club or national team background
IX.Ability to produce detailed reports and presentations.
X.Attend tournaments and trips when requested by the GFA.
XI.Experience in the management of staff to ensure their effective operation, work allocation and discipline.
XII.Strong and positive character with an ability to inspire and motivate others.
XIII.Proven background of implementing and utilizing performance analysis to improve performance.
Personality or Personal Characteristics:
1.Proven management and team building skills.
2.Ability to work under pressure, balance demands and meet tight deadlines.
3.Ability to communicate and interact effectively with the players, coaching staff, secretariat workers and other members of the GFA.
4.Demonstrate qualities, traits and demeanor that are consistent with the GFA's values and vision of a professional football environment.
5.Ability to solve problems and find innovative solutions to overcome same that may arise when implementing programmes.
6.Demonstrate a business-like approach to daily practice, game prep and game.
7.Demonstrate great self-esteem, self-confidence,and positive leadership ability.
Remuneration:
Salary will be negotiable based on experience,qualifications,and budget.
How to apply:
Please send your CV to:The General Secretary
Grenada Football Association
PO Box 326,
GFA Administrative Building,
Queen's Park, St. George's,
Grenada Email:
gfageneralsecretariat@gmail.com
Only valid applications will be considered. Candidates must be able to begin work on short notice.
APPLICATION DEADLINE: September 15th, 2020