2021-06-13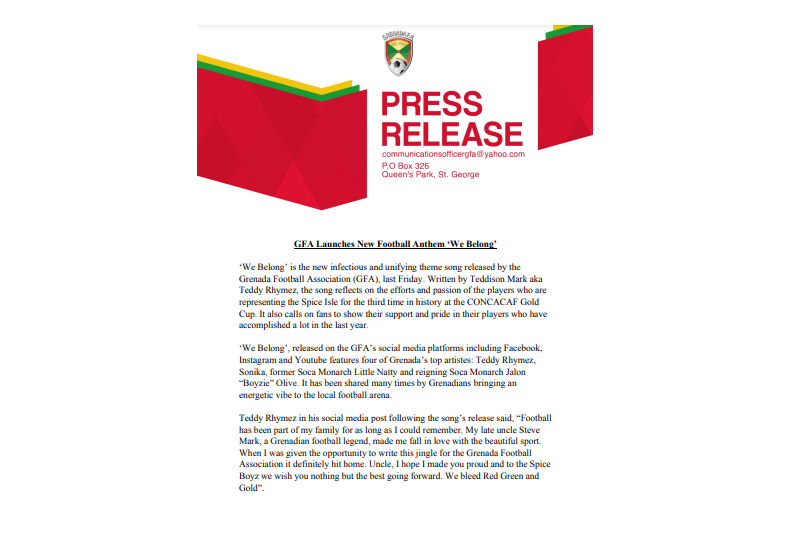 GFA Launches New Football Anthem 'We Belong'
'We Belong' is the new infectious and unifying theme song released by the Grenada Football Association (GFA), last Friday. Written by Teddison Mark aka Teddy Rhymez, the song reflects on the efforts and passion of the players who are representing the Spice Isle for the third time in history at the CONCACAF Gold Cup. It also calls on fans to show their support and pride in their players who have accomplished a lot in the last year.
'We Belong', released on the GFA's social media platforms including Facebook, Instagram and Youtube features four of Grenada's top artistes: Teddy Rhymez, Sonika, former Soca Monarch Little Natty and reigning Soca Monarch Jalon "Boyzie" Olive. It has been shared many times by Grenadians bringing an energetic vibe to the local football arena.
Teddy Rhymez in his social media post following the song's release said, "Football has been part of my family for as long as I could remember. My late uncle Steve Mark, a Grenadian football legend, made me fall in love with the beautiful sport. When I was given the opportunity to write this jingle for the Grenada Football Association it definitely hit home. Uncle, I hope I made you proud and to the Spice Boyz we wish you nothing but the best going forward. We bleed Red Green and Gold".
Former General Secretary of the GFA Malaika Church who is currently attached to FIFA's Regional Office based in Barbados commented on the song saying, "This one is really professional, and I could not help but hit the repeat button. I love, love, love it. Congratulations to all who were involved."
The song begins with a little girl reciting what it is to be a Grenadian and reminds everyone that the biggest tree starts with the planting of a small seed. The GFA wishes to thank everyone involved in the production and the fans for embracing the finished product. The GFA also encourages football fans to share the video on their social media platforms and with family and friends as the organization looks forward to the return of the fans to the National Stadium where this song will be a reminder of passion, unity and strength.