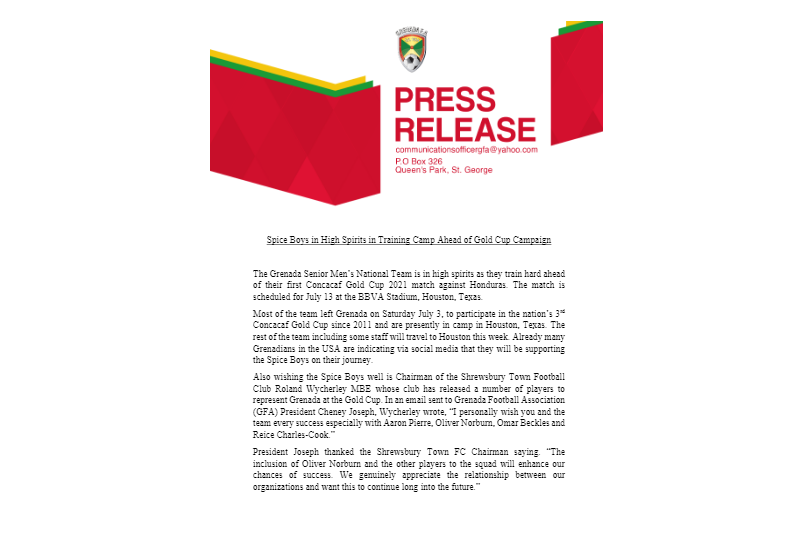 Spice Boys in High Spirits in Training Camp Ahead of Gold Cup Campaign
The Grenada Senior Men's National Team is in high spirits as they train hard ahead of their first Concacaf Gold Cup 2021 match against Honduras.The match is scheduled for July 13 at the BBVA Stadium, Houston, Texas.
Most of the team left Grenada on Saturday July 3, to participate in the nation's 3rd Concacaf Gold Cup since 2011 and are presently in camp in Houston, Texas. The rest of the team including some staff will travel to Houston this week. Already many Grenadians in the USA are indicating via social media that they will be supporting the Spice Boys on their journey.
Also wishing the Spice Boys well is Chairman of the Shrewsbury Town Football Club Roland Wycherley MBE whose club has released a number of players to represent Grenada at the Gold Cup. In an email sent to Grenada Football Association (GFA) President Cheney Joseph, Wycherley wrote, "I personally wish you and the team every success especially with Aaron Pierre, Oliver Norburn, Omar Beckles and Reice Charles-Cook."
President Joseph thanked the Shrewsbury Town FC Chairman saying. "The inclusion of Oliver Norburn and the other players to the squad will enhance our chances of success. We genuinely appreciate the relationship between our organizations and want this to continue long into the future."
The GFA President also conveyed his hope of Shrewsbury Town FC facilitating a visit for promising young Grenadian players to show off their skills and possible opportunities for representing the club in the future.
The following is the official 23-man squad for the Concacaf Gold Cup:
Tyrone Sterling 34 Defender Concord Rangers
Alex McQueen 26 Midfielder Barnet FC
Kraig Noel-McLeod 22 Defender Unattached
AJ Patterson 25 Midfielder Charleston Battery
Shavon John-Brown 26 Midfielder New Amsterdam FC
Kairo Mitchell 24 Attacker Chesterfield FC
Josh Gabriel 22 Defender Alderson Broadus University
Aaron Pierre 28 Defender Shrewsbury Town FC
Omar Beckles 30 Defender Lyton Orient FC
Reice Charles-Cook 27 Goalkeeper Welling FC
Ricardo German 22 Attacker Crawley Town FC
Dejon Noel Williams 22 Attacker Unattached
Kwesi Paul 27 Defender MOBA FC Georgia
Jamal Charles 26 Attacker Paradise
Jason Belfon 31 Goalkeeper Paradise
Trishawn Thomas 18 Goalkeeper QPR
Saydrel Lewis 24 Attacker Paradise
Romar Frank 25 Attacker FC Camerhogne
Kwazim Theodore 25 Midfielder St David´s FC
Benjamin Ettienne 18 Defender QPR
Regan Charles-Cook 24 Attacker Ross Country FC
Oliver Norburn 28 Midfield Shrewsbury Town FC
Jacob Berkeley-Agyepong 23 Attacker Dartford FC