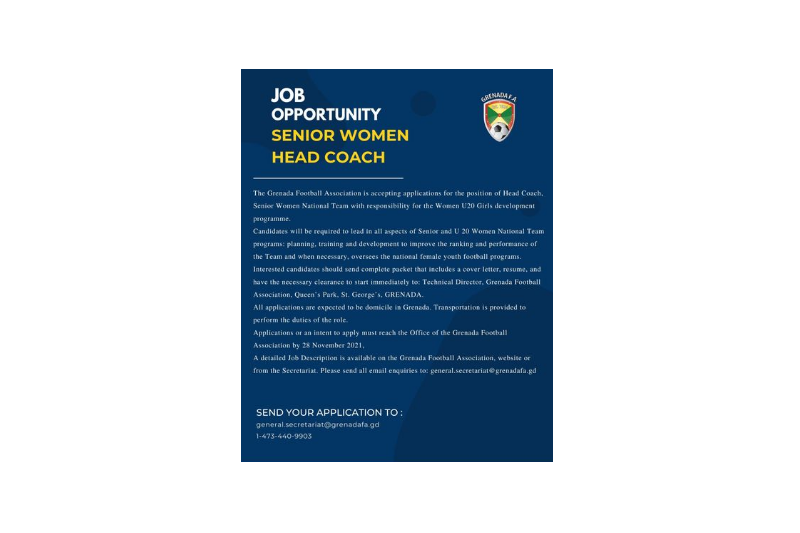 Job Opportunity - Senior Women Head Coach
GRENADA FOOTBALL ASSOCIATION
TERMS OF REFERENCE – SENIOR WOMEN'S HEAD COACH
Description:
The position of Senior Women's Head Coach is a full-time position within the Technical Department of
the Grenada Football Association (GFA). The position reports directly to the GFA's Technical Director (TD).

Overview of Role:
To lead in all aspects of Senior Women National Team program: planning, training and development to
improve the ranking and performance of the Team and when necessary, oversees the national female
youth football programs. The role includes administration work – reporting and monitoring of programs.

General Responsibilities:
1. To implement, develop, deliver the GFA National Playing and Coaching Philosophy with the Women's
Senior National Team.
2. To prepare the foundation for the Women's National Team to meet the initial targets of the Grenada
Football Association.
3. To improve the performance and ranking of the Senior Women's national team.
4. To effectively develop the tracking and monitoring of both local and overseas based players in a
robust manner.
5. To support national youth teams through development programs, including assisting with managing
talent identification processes as instructed by the Technical Director.
6. To perform additional duties and responsibilities as reasonably instructed by the GFA from time to time.

Specific Responsibilities:
1. Plan, deliver and review training sessions with the Senior Women's Team to implement the GFA
National Playing Philosophy.
2. Implement the GFA National Coaching Philosophy with the Women's senior national team
programme.
3. Conduct at least 3 training camps annually with the local/overseas based players based on the
schedules of Concacaf/FIFA and CFU competitions under the guidance of the TD.
4. Manage local based coaching staff to ensure integration with overseas group of players.
5. Prepare Women's Senior squads for international competition with a structured approach to the planning of appropriate friendly fixtures in the long-term build ups the FIFA / CONCACAF / CFU tournaments.
6. Implement and utilize sports science to improve performance as directed by the TD.
7. Implementing and utilizing performance analysis to; produce opposition scouting reports, match
reviews, performance reviews, player reviews, scouting analysis, to ultimately improve performance.
8. Develop and Implement an individual training plan for all players within the National Team
Programme.
9. Develop and implement a robust player tracking and monitoring system for both local and overseas
based players under the direction of the TD.
10. Establish a professional scouting network on both a local and international level to track players.
11. Expand the demographics of players with specific emphasis on outreach and underserved
communities as required.
12. Actively scout, observe, and attend local games on a structured, pragmatic approach to ensure the
top local based players are recruited at all age groups into the national programme.
13. Produce detailed pragmatic plans to ensure overseas based players are observed and scouted.
14. Monitor the development progress of national youth team players in both the elite/academy system
and national youth team programme with a long-term overview.
15. Implement the GFA player pathway under the direction of the TD to ensure locally developed players
through the National Youth Teams are integrated into the Senior Team.
16. Produce detail reports and presentations as directed by the TD on player, team, tournament
performances in both competitive and training camp environments.
17. Produce detailed long-term plans to achieve GFA performance targets at the Micro, Meso, and

Experience & Knowledge Requirements:
1. Qualified to a minimum of an B level certificate or equivalent – or actively working towards this.
2. A Degree in Physical Education and Sport Science will be an asset.
3. Must be from a football background. Ideally a former player at a high level.
4. Must have proven professional football club or national team background.
5. Must be computer literate and possess the ability to use a variety of computer software
applications to effectively track and monitor the progress of National Team programs.
6. Ability to produce detailed reports and presentations.
7. Must have the ability to prioritize workloads to ensure all deadlines are met in an appropriate
manner.
8. Experience in the management of staff to ensure their effective operation, work allocation and
discipline.
9. Willingness to work irregular hours and travel extensively when required.
10. Previous experience of working in a multi-disciplinary sports environment and comfortable
managing differing tensions that may areise.
11. Strong and positive character with an ability to inspire and motivate others.

Personal Characteristics:
1. Ability to solve problems and find innovative solutions to overcome issues that may arise when
implementing programs of work.
2. Proven management and team building skills.
3. Excellent communication skills, both written and oral.
4. Ability to work under pressure, balance demands and meet tight deadlines.
5. Ability to communicate and interact effectively with all multi-disciplinary departments of the GFA.
6. Demonstrate qualities, traits and demeanor that are consistent with the GFA's values and vision of a
professional football environment.

Contract:
Two years contract with a 6 months' probation period. Employment to be reviewed at this time.
Remuneration:
Remuneration package will be commensurate with qualifications and experience.