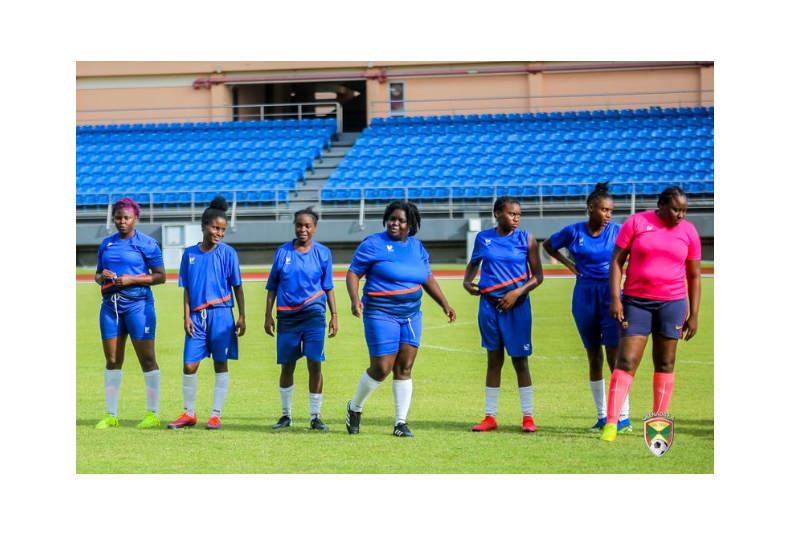 Boca Juniors Capture Second Women's Title for 2021
A brilliant display of skill from Boca Juniors ensured that they captured the Grenada Football Association's (GFA) 11V11 Women's Festival title. This is their second title after being crowned the Women's 7V7 tournament champions on August 7,2021.

A focused Boca Juniors won both their matches at the Kirani James Athletics Stadium, 2-0 to capture the title with 10 points, one above 2nd placed Paradise FC International. In their first match against Queen's Park Rangers, Boca Juniors' Alisha Charles converted in extra time in the first half (25+4) and in the 39th minute.

Then in the second match against Paradise FCI, Monica Charles starred with 2 goals in the 28th and 48th minutes.

In Paradise FCI's next keenly contested match against the National U17 team, Cassie Rennie converted in the 49th minute to win.

In the other matches of the day, Queen's Park Rangers beat St. Marks Super Strikers 7-0 with goals from Shaniah Johnson (9'), Ruth Lewis (11'), Shania Ogilvie (14'), Erin Sylvester (16'), Shadel Jones (18', 28') and Shakala Francis (40').

In the final match of the day, the National U17 team beat St. Marks Super Strikers 5-0. Goals came from Anaya John (4'), Monique Noel (7'), Amelia Bubb (10'), Cassina Langaigne (12') and Joshenie Fortune (13').

On sealing the title, Head Coach of Boca Juniors Lottie Cato was elated with her team's clinical performance but noted that she would like to see a longer competition in the future.
At the closing ceremony GFA Director of Football for St. George Nigel Gibbs praised the players for what he described as exceptional talent. He further stated, "We hope to see the younger players here today continuing on to the U20 level and beyond."

GFA General Secretary Alvin Clouden announced that with budgetary approval, "there will be more football for women in 2022."

Val Close, who has been a long-standing supporter of women's football in Grenada urged the players to, "continue your education and put in the work to understand the game of football as much as you can."

Capturing the Golden Gloves title was Boca Juniors Goalkeeper Rashida Herry who was awarded the same title in the 7V7 tournament. Speaking about this double achievement she said, "goalkeeping is my passion and hard work paid off."

A special award was presented to Divine O'Neil of St. Marks Super Strikers who made history being the first hearing impaired person to play in a GFA tournament. O'Neil was praised for her passion and determination to play the sport she loves.

Additionally, teams in the tournament were presented with equipment to assist in the continued training and development of their players.

Individual Titles

Most Valuable Players
Paradise FC International- Ronella Bubb
Boca Juniors- Judy McIntosh
Queen's Park Rangers- Shakala Francis
St. Mark's Super Strikers-Anika Phillip
National U17 Women's Team- Amelia Bubb

Overall MVP- Alisha Charles- Boca Juniors
Golden Gloves- Rashida Herry-Boca Juniors
Golden Boots-Monica Charles (7 goals)

Youngest Players:
Shadel Jones- Queen's Park Rangers
Shenilla Thomas- Paradise FC International

Team Spirit Award-St. Mark's Super Strikers
Special Award- Divine O'Neil- St. Mark's Super Strikers