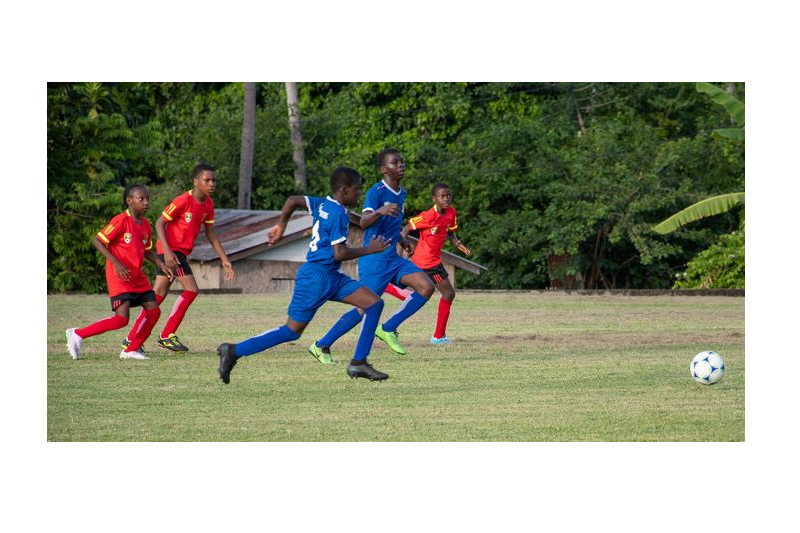 St. Andrew's Big Parish Stars are Champions of the GFA U13 Boys Tournament
ST. ANDREW'S BIG PARISH STARS are champions of the inaugural GFA U13 Boys Tournament. In a tight finish; Big Parish secured the crown having conceded the least goals. In the final round of matches, held at the Kirani James Athletics Stadium on Sunday December 13, St. Patrick's Crown City Strikers, St. Andrew's Big Parish Stars and St. Mark's Western Stars all won their matches ending on 12 points. All three teams came into the final round of matches with equal points as well. Big Parish Stars clinched the title by conceding the least goals (11), despite having the same goal difference as Crown City Strikers (+9).

In a fantastic display of skill and talent, Big Parish Stars stamped their authority, beating the St. David's Top Strikers 5-1. Top Strikers were first on the board with a goal from Rohon Moses in the 17th minute. However, Big Parish Stars found their groove in the second half with a goal from Kahzym Dubisette in the 31st minute, a brace from Rasheed George in the 33rd and 42nd minutes and another brace from the prolific Delron John in the 46th and 59th minutes.

In their match, St. Patrick's Crown City Strikers beat St. John's Dolphins 6-3. Crown City were up 3-0 in the first half with goals from Zazid Richardson in the 9th minute, Nathan McIntosh, one minute later and Connelius John in the 30th. A stunning hat trick from Raheem Raeburn in the 34th, 50th and 60th minutes cemented the win. Goals from the Dolphins' Donel Duncan in the 42nd, Izion Fraser in the 46th and Amelio Stanisclaus in the 48th minutes were not enough to
hold off Crown City.

In the final match, St. Mark's Western Stars got the better of St. George's Royal Cannons 3-1. Scoring for the Western Stars was Orion Peters in the 41st, Tyler Charles in the 52nd and Kaydon Williams in the 56th minutes. The lone response from the Cannons came off the boot of Taejon Stephen in the 51st minute. At the closing ceremony, President of the Grenada Football Association (GFA) Cheney Joseph congratulated the teams and coaches saying, "The future for football for Grenada is bright. If you keep disciplined, train hard and balance it with education, many of you have great opportunities ahead."

He further stated, "We're keeping the U13 Competition and will be going down to U10 and eventually U8. We need to discover talent much earlier and give players more opportunities to learn and grow."

The winning team will travel to Carriacou to play against a U13 team there in 2022. This development tournament was held to help the GFA identify talent for upcoming CONCACAF U15 competitions.

Individual Awards

Team MVPs
St. Andrew's Big Parish Stars - Delron John
St. David's Top Strikers – Khade Francis
St. Patrick's Crown City Strikers – Raheem Raeburn
St. George's Royal Cannons – Jahym Fletcher
St. Mark's Western Stars – Tyler Charles
St. John's Dolphins- Amelio Stanisclaus

Golden Gloves- Tayden Bernadine- St. John's Dolphins
Golden Boots-Delron John- St. Andrew's Big Parish Stars
Overall MVP- Raheem Raeburn- St. Patrick's Crown City Strikers

Tournament Top 3
1st - St. Andrew's Big Parish Stars -Champions
2nd - St. Patrick's Crown City Strikers
3rd - St. Mark's Western Stars